Here is the place to order a Site Plan or an Emergency Response Plan
(ERP) Flipchart.
You can download a PDF or Word version of the WorkSafe ERP Flipchart and lots of other useful documents in our Resources area.
If you prefer to phone us, our number is (03) 477 5996
Cost = $38.50 (Inc GST)
To order a Flipchart please deposit $38.50 (inc GST) into our bank account:
12-3494-0026617-00.  
Or we can send you an invoice if you are already a client, please indicate this on the order form.
Hazardous Substances Professionals New Zealand have developed an Emergency Response Plan Flipchart similar to the one previously available from WorkSafe.  WorkSafe no longer prints these charts you can only get them from HSP NZ Members.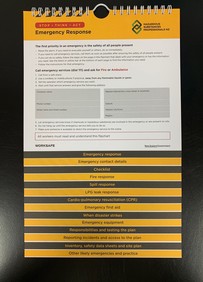 Fill in your details below to order a site plan. We will pass on the details to our external site plan consultant and liase with them to get it sorted.  They may contact you directly with queries.  
The cost for the site plan is passed onto us by the consultant and we will oncharge this to you so you don't have to worry about new account/vendor set up issues.
If you are not using us for your other certification we can still arrange a plan for you, we can send you an invoice if you are already a client.
Site plans are complicated documents and it can take time to get them right.  Measurments will be needed to ensure zones are the correct sizes and the plan is to scale.
Please answer as many questions as you possible in the form below: