Order (ERP) Flipchart's (Emergency Response Plans) or find information about Site Plans on this page.
You can download a PDF or Word version of the WorkSafe ERP Flipchart and lots of other useful documents in our Resources area.
If you prefer to phone us, our number is (03) 477 5996
Cost = $38.50 (Inc GST)
To order a Flipchart please deposit $38.50 (inc GST) into our bank account:
12-3494-0026617-00.  
Or we can send you an invoice if you are already a client, please indicate this on the order form.
Hazardous Substances Professionals New Zealand have developed an Emergency Response Plan Flipchart similar to the one previously available from WorkSafe.  WorkSafe no longer prints these charts you can only get them from HSP NZ Members.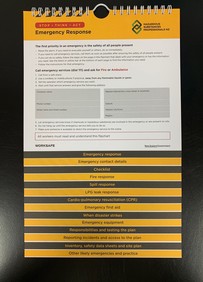 Please contact us to order a site plan. We will give you the contact details for our external site plan consultants.   They will contact you directly to get it sorted.
The price can vary depending on the complexity of the plan and if a site visit is needed to measure the facility.
Site plans are complicated documents and it can take time to get them right.  Measurements will be needed to ensure Hazardous Atmosphere Zones and Separation Distances are the correct sizes and the plan is to scale.
You can also draw the plan yourself if you feel comfortable doing this – there is no requirement for it to be a qualified person – just a competent person.  See Reg 3(3).  A site plan must be "…accurate and drawn to scale to the extent necessary to enable the plan to meet its purpose in the provision that refers to it…"
Please click here for a list of the requirements for a HSNO Compliant Site Plan.